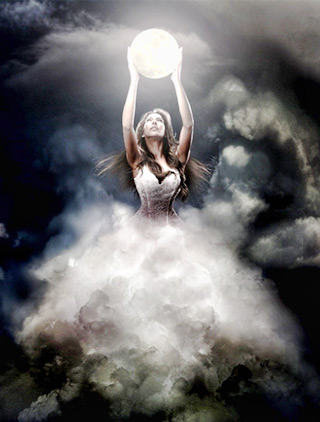 She who bares the legend
Who shares this name of mine
Who floats across the night sky
She who became a myth and legend
Boarding on many different faces
Sometimes half, or a sliver of at times completely full.
I share that name but alas I am not like her in her myth.
I am not a lover of a mortal man not a goddess myself
But I adore the sight she brings to the night
The glow of her light across the earth's surface
And perhaps I just feel connected somehow
Since discovering the shared name we share
She brings upon a grace and tranquillity over the night
She honours many romantics and poets with your inspiration
And she glides like a song across the hours
Gracing the sky singing a song of romance
She takes on a mystical form to many
And enchants many a child
The light in the darkness
And a mystery to many a mortal man
She has an immortal quality about her
Her goddess legacy differs in each mind
and her meaning is different to all
but she has been a dictator and ruler to the seas, time and months.
This year she will be out in all her beauty
On the night another year of my life ticks over
The first day of my 30th year of being
Perhaps I have become enchanted by the story of her legend since I learnt of it
But very few possess this name
In this traditional spelling
So I take it with pride that I share it
I am a moon goddess
If only in my heart
And not the version in the myth
But she will shine on
And light the way to achievement and fulfilment
But we'll wait to see if my Endymion is a reality
Or solely just a part of a legend.
But for now I am a woman
Living a life ruled by her
in the same ways all mortals are
since she controls the sea
and we are all made of water
our bodies are entwined in some way
we cannot fathom.